Specialists in Engineering Metrology
| | | |
| --- | --- | --- |
| | Calsure - Machine Tool Calibration Software | |
The Calsure software enables rapid calibration and compensation of machine tools. A variety of instruments can be interfaced into the system to enable a wide range of measurements such as linear positioning, angular and straightness using the highly stable Keysight / Agilent / Hewlett Packard laser interferometry systems (model numbers : HP 5526 HP 5528, HP 5529, Agilent 5529, Agilent 5530 and Keysight 5530), angular measurement using Autocollimators, or Levels. Calsure therefore facilitates a complete assessment of the dimensional metrology of a machine tool, from simple condition monitoring, to in depth fault finding and machine development. The Calsure software contributes significantly to our UKAS accredited Sub-Micron uncertainty and can be supplied to machine tool manufacturers, service companies and large scale machine tool users along with the relevant hardware or as a an onsite service by one of our team of highly trained engineers.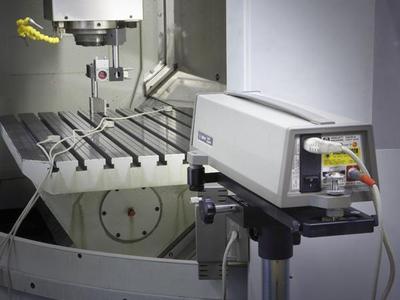 Agilent 5529 Laser system checking the linear positioning accuracy of a machine tool.
The system can interface to a wide range of machine tool controllers such as Allen Bradley, Cuproc, Fagor, Fanuc, GE 2000, Heidenhain, Laserdyne, Mazak, NUM, Okuma, Osai, Phillips, Sapphire, Secos, Siemens, Yasnac, with the possibility of other systems being added. The software can generate part programs and compensation schemes where applicable for these control systems. The pitch error correction can be in most cases uploaded directly to the machine tool controller with out the need for manual data entry and all the associated problems this can cause. For those machines not covered data can be out put via files for manipulation in spreadsheets to allow data to analysed in your own manor.
Whether the 'Calsure' system is used by your engineers or as a an onsite service supplied by ourselves Calsure will provide quick, accurate and precise information as to the state of your machine tool.
C. D. Measurements Ltd., Chomlea House, Hadfield Road, Hadfield, Glossop, SK13 2ER, U.K.
Tel. 01457 852929
Email : sales@cdmeasurements.com
All Trade Marks Acknowledged